MUSIQUE GAGNÉ, AT YOUR SERVICE SINCE 1888
FREE SHIPPING ON MOST ORDERS OVER $200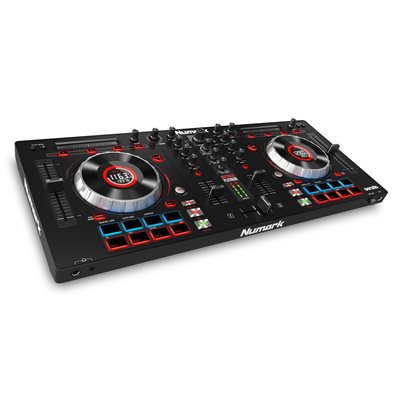 Press and move to zoom.
Mouse over image to zoom.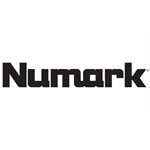 The Highly-Anticipated Mixtrack Platinum DJ controller.
Setting the pace as the world's leading innovator of DJ equipment and technologies, Numark presents the Mixtrack Platinum DJ controller. This latest addition to the Mixtrack Numark family series enhances the performance of any DJ, from skilled amateur to the most advanced professional.
Mixtrack Platinum offers a host of great features, such as a built-in custom LCD display screen in each 5" capacitive jog wheel, 4-channel mixing capabilities, Filter and gain controllers for each channel, Effects, and 24-bit audio output. Yes—we know with all these amazing features are incredible: it's like listening to a new song that you know is going to be platinum!
Platinum Hi-Res Display
As you play your hits, Numark provides an awesome feature that takes you into a new dimension with the Mixtrack Platinum: The custom 1.75" displays offer a colorful hi-resolution display enabling you to monitor information on bpm, platter position, time remaining, pitch adjustment, and keylock. (Ok—you can thank us later.) You can also switch between four decks and control which deck is active while creating a platinum mix.
What's the advantage of the display screen? You not only have the ability see your bpm and needle drop without looking at the laptop, you will also focus more on your performance without distraction.
The place is hot. The action is non-stop. You're the one in the driver's seat. We make sure you have the horsepower to get it done. Mixtrack Platinum will never let you down. We've kept everything you loved about the Mixtrack Pro 3, but now there's even more.
Mix With 4 Decks
You have a 4-deck layering advantage with the Mixtrack Platinum, and you can create a full digital mixtape or perform a Platinum mix. The new deck select function enables you to switch to the desired layered deck, giving you limitless possibilities to mix in loops, a capella's, and blend in songs seamlessly. You can monitor which deck you are on in the new custom 1.75-inch displays built into the jog wheels.
No Limits on Your Creativity
Dive into our 16 multi-function backlit performance pads and add loops, launch samples, and control hot cues to your performance. Use the multi-function touch strip for dynamic FX control and track search operation. There are dedicated filter knobs for each channel, to give you just the exact amount of tonal control you need for that perfect sound. If you can think it, Mixtrack Platinum will do it and take your creativity beyond to new heights.
We give you 100mm pitch sliders that make it easy to perform even the finest pitch adjustments, so it's easy to keep two cuts in perfect beat sync without any drift.
Jumpstart your inspiration with 6 sample packs from Prime Loops including over 380 premium instrumental loops, drum kits, one-shots, and more. A $200 value.
Remix with the sounds of the world's premier electronic music label. Mixtrack Platinum gives you exclusive access to download studio-grade audio stems from the Toolroom Records catalog, allowing you the freedom to layer, tweak and chop today's most relevant sonic textures.
By browsing the website musiquegagne.com, you accept the terms and condition listed below:
The product images and specifications are supplied solely for the purpose of guidance. Although the staff of musiquegagne.com will make every effort to ensure the accuracy of all descriptions, some mistakes may occur. musiquegagne.com may not be held liable for the problems that may ensue to the extent permitted by law.
You must ensure that the product responds to your needs.
For informational purposes, musiquegagne.com may offer you links to external websites. musiquegagne.com may not be liable for the content of the content displayed on external websites.
Shipping and handling fees are generally not included in the prices displayed, except when stated otherwise.
musiquegagne.com may not be held liable for delays in delivery caused by the carriers.
All our products are subject to a checkup before shipment.
Brand new products are currently only shipping to Canada as of now.
Used products may ship world wide. Ask for quote if interested.
You must include a complete physical address to ensure that all orders reach their destination. A tracking number is issued for all outgoing orders.
All orders are shipped within 2 business days following the approval of payment.
Free shipping offers are not applicable to all products.
Shipping fees are calculated automatically through applications provided by carrier companies. You must create a client profile to know more about their fees on products not covered by their shipping policies.
If parts of your order are unavailable, we will contact you and negociate arrangements depending on the situation.
may not be held liable for any damage incurred during transport.
You have up to 15 consecutive days following the date of reception to request a return number by email.
The product must be returned in its original state, including all accessories.
Reimbursement will be issued within a 5 business days period, depending on the method of payment, after inspection and approval by a manager. Cash and in-store reimbursements are not available.
The customer is responsible for all shipping and handling costs. These fees will not be counted in the calculation of reimbursement.
No returns are available on softwares and accessories (drum heads, drum sticks, strings, straps, harmonicas, in-hear, ear plugs etc.)
A 20% restocking fee applies to all product returns.
Every product sold by musiquegagne.com is in working condition except when stated otherwise.
New products in their original packaging are sold as-is.
All used and floor demo items are verified by our staff before shipping.
musiquegagne.com will always honor manufacturer warranties.
You may also be interested in