MUSIQUE GAGNÉ, AT YOUR SERVICE SINCE 1888
FREE SHIPPING ON MOST ORDERS OVER $200
Used

>

ZVEX EFFECTS PROBE TREMOLO HAND PAINTED COPPER PLATE TREMOLO #A14Z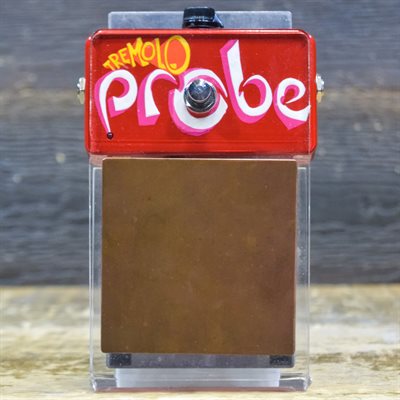 Press and move to zoom.
Mouse over image to zoom.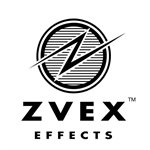 ZVEX EFFECTS PROBE TREMOLO HAND PAINTED COPPER PLATE TREMOLO #A14Z
Product Code:191219-6.........
TREMOLO PEDAL – USED ZVEX EFFECTS PROBE TREMOLO HAND PAINTED COPPER PLATE TREMOLO #A14Z
Price Range: 100,00 - 249,99$
Quantity Available: 1
Availability: Ships within 2 business days
This effect pedal is a Used Model in Very Good Cosmetic Condition and in Perfect Working Condition! On this one, there are glue marks (velcro tapes removed) and some black tapes (modification) on the underside (see 4th picture) and there are some scratches, marks, tiny nicks, few tiny paint chips, finish imperfections and few other signs of wear here and there (see 9th to 18th pictures), but nothing major. Unit does not come with any power supply.
-
MODIFICATIONS : An AC Adapter Jack has been installed on the underside (see 4th picture)
-
ZVEX EFFECTS PROBE TREMOLO - HAND PAINTED
The Tremolo Probe is a kind of cross between a theremin volume control and a Super Hard-On. There is a 3-5/8" square copper plate mounted on a chunk of 3/8" clear acrylic that passes over the top of the pedal housing, angles down to sharp turn, and goes back to the pedal. Under the whole mess is a 3 5/8" by 7" sheet of aluminum that provides shielding from annoying ground effects and wires under the stage. It also serves to protect the knob from being knocked off if you drop it on that end... and it makes a nice toe chopper if you are barefoot, so (legal disclaimer:) DO NOT DROP THIS PEDAL ON YOUR FOOT! IT IS HEAVY AND HAS VERY POINTY CORNERS THAT COULD DAMAGE LIVING CREATURES AND FINE HARDWOOD FLOORING. ALSO, YOU COULD BREAK SOMETHING. Like your dog.
The copper antenna projects a field of RF energy that is affected by your foot (or other appendage), altering the circuit that generates it, an in so doing, increasing the brightness of that LED on the top of the pedal and also controlling the master volume of the output. You can set the drive of the pedal with the knob on the back... it gets pretty darn loud, so watch out. It will distort in an interesting way when it is cranked. Basically, the reason it is called the tremolo probe is that you can tap on the antenna at any speed and your sound will be a nice tremolo in time with the band. It is possible to set the volume to be up slightly when your foot is off the antenna and come up louder as your foot approaches the antenna... see below.
-
SPECIFICATIONS:
Controls:
- Volume (rear)
- RF (underside)
- LED (underside)
- Copper Probe Plate
Power : 9V DC
Pedal Dimensions (L x W x H) : 7.50" x 4.70" x 2.40"
By browsing the website musiquegagne.com, you accept the terms and condition listed below:
The product images and specifications are supplied solely for the purpose of guidance. Although the staff of musiquegagne.com will make every effort to ensure the accuracy of all descriptions, some mistakes may occur. musiquegagne.com may not be held liable for the problems that may ensue to the extent permitted by law.
You must ensure that the product responds to your needs.
For informational purposes, musiquegagne.com may offer you links to external websites. musiquegagne.com may not be liable for the content of the content displayed on external websites.
Shipping and handling fees are generally not included in the prices displayed, except when stated otherwise.
musiquegagne.com may not be held liable for delays in delivery caused by the carriers.
All our products are subject to a checkup before shipment.
Brand new products are currently only shipping to Canada as of now.
Used products may ship world wide. Ask for quote if interested.
You must include a complete physical address to ensure that all orders reach their destination. A tracking number is issued for all outgoing orders.
All orders are shipped within 2 business days following the approval of payment.
Free shipping offers are not applicable to all products.
Shipping fees are calculated automatically through applications provided by carrier companies. You must create a client profile to know more about their fees on products not covered by their shipping policies.
If parts of your order are unavailable, we will contact you and negociate arrangements depending on the situation.
may not be held liable for any damage incurred during transport.
You have up to 15 consecutive days following the date of reception to request a return number by email.
The product must be returned in its original state, including all accessories.
Reimbursement will be issued within a 5 business days period, depending on the method of payment, after inspection and approval by a manager. Cash and in-store reimbursements are not available.
The customer is responsible for all shipping and handling costs. These fees will not be counted in the calculation of reimbursement.
No returns are available on softwares and accessories (drum heads, drum sticks, strings, straps, harmonicas, in-hear, ear plugs etc.)
A 20% restocking fee applies to all product returns.
Every product sold by musiquegagne.com is in working condition except when stated otherwise.
New products in their original packaging are sold as-is.
All used and floor demo items are verified by our staff before shipping.
musiquegagne.com will always honor manufacturer warranties.
You may also be interested in