MUSIQUE GAGNÉ, AT YOUR SERVICE SINCE 1888
FREE SHIPPING ON MOST ORDERS OVER $200
TC ELECTRONIC HYPERGRAVITY COMPRESSOR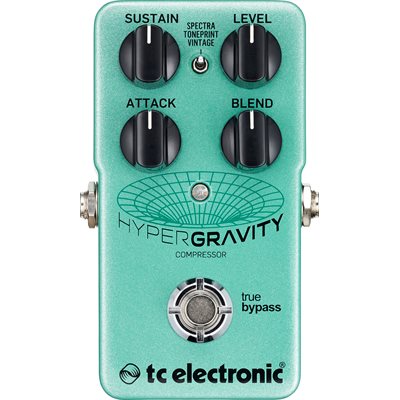 Press and move to zoom.
Mouse over image to zoom.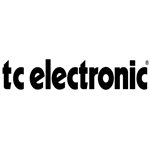 Get A Hold Of Your Tone
HyperGravity Compressor is the missing link that will take your tone from good to great. Featuring no less than three amazing compression modes; including a state-of-the-art multiband compressor, a cool vintage compressor, plus endless compression combinations through TonePrint. HyperGravity Compressor is the key to getting that much desired pro tone with even dynamics. Kick it in and be prepared to shine!
Compress Without Compromise
HyperGravity Compressor's highly advanced multiband dynamics algorithm is the same MD3 compression algorithm that can be found in our studio production masterpiece, System 6000 which has been the preferred dynamics tool for top producers for over 10 years. Its technologically superior engine applies perfectly tailored compression for your highs, mids and lows, and leaves you with an ultra-transparent and in the end, more musical compression than what can be achieved with standard single-band compressors. This lets you go from subtle airy shimmers, to full-on straightjacket tone-holds and anywhere in between, without ever compromising your original tone.
Squeeze Into Some Tight Tones
Jump straight into those old-school compression tones of yesteryear with HyperGravity Compressor's warm vintage mode. You get all of the squeeze and squash you could ever want, alongside that extra presence associated with those classic stompbox compressors we all know and love. Perfect for percussive country tones, tight funk sounds or sweet Gilmour sustain.
TonePrint – Customized Compression
With our proprietary TonePrint technology you can finally realize the full potential of your inner compression-geek. The free TonePrint Editor and its wealth of parameters, lets you tailor that fully focused compression tone completely to your liking. But hey, if you'd rather rely on the sonic wisdom of others, then we have a solution for that too. Via the free TonePrint App, you can beam custom-tweaked compression tones made by some of music's finest to the pedal. It's time to unleash those dream tones inside your head!
Resume
Studio-Quality Multiband Compressor
Vintage Mode for classic stompbox compression
TonePrint enabled
True Bypass
Compact design
9V/100mA
High quality components
Road-ready construction
By browsing the website musiquegagne.com, you accept the terms and condition listed below:
The product images and specifications are supplied solely for the purpose of guidance. Although the staff of musiquegagne.com will make every effort to ensure the accuracy of all descriptions, some mistakes may occur. musiquegagne.com may not be held liable for the problems that may ensue to the extent permitted by law.
You must ensure that the product responds to your needs.
For informational purposes, musiquegagne.com may offer you links to external websites. musiquegagne.com may not be liable for the content of the content displayed on external websites.
Shipping and handling fees are generally not included in the prices displayed, except when stated otherwise.
musiquegagne.com may not be held liable for delays in delivery caused by the carriers.
All our products are subject to a checkup before shipment.
Brand new products are currently only shipping to Canada as of now.
Used products may ship world wide. Ask for quote if interested.
You must include a complete physical address to ensure that all orders reach their destination. A tracking number is issued for all outgoing orders.
All orders are shipped within 2 business days following the approval of payment.
Free shipping offers are not applicable to all products.
Shipping fees are calculated automatically through applications provided by carrier companies. You must create a client profile to know more about their fees on products not covered by their shipping policies.
If parts of your order are unavailable, we will contact you and negociate arrangements depending on the situation.
may not be held liable for any damage incurred during transport.
You have up to 15 consecutive days following the date of reception to request a return number by email.
The product must be returned in its original state, including all accessories.
Reimbursement will be issued within a 5 business days period, depending on the method of payment, after inspection and approval by a manager. Cash and in-store reimbursements are not available.
The customer is responsible for all shipping and handling costs. These fees will not be counted in the calculation of reimbursement.
No returns are available on softwares and accessories (drum heads, drum sticks, strings, straps, harmonicas, in-hear, ear plugs etc.)
A 20% restocking fee applies to all product returns.
Every product sold by musiquegagne.com is in working condition except when stated otherwise.
New products in their original packaging are sold as-is.
All used and floor demo items are verified by our staff before shipping.
musiquegagne.com will always honor manufacturer warranties.
You may also be interested in