MUSIQUE GAGNÉ, AT YOUR SERVICE SINCE 1888
FREE SHIPPING ON MOST ORDERS OVER $200
Used

>

VOODOO LAB GROUND CONTROL PRO PROGRAMMABLE MIDI FOOT CONTROLLER SWITCHER #9384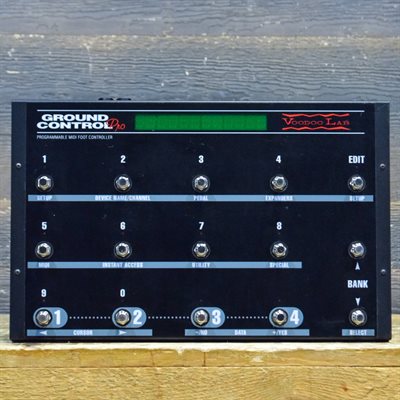 Press and move to zoom.
Mouse over image to zoom.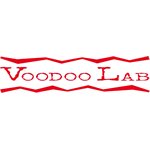 VOODOO LAB GROUND CONTROL PRO PROGRAMMABLE MIDI FOOT CONTROLLER SWITCHER #9384
Product Code:050919-..........
LINE SWITCHER PEDAL – USED VOODOO LAB GROUND CONTROL PRO PROGRAMMABLE MIDI FOOT CONTROLLER SWITCHER #9384
Price Range: 250,00 - 499,99$
Quantity Available: 1
Availability: Ships within 2 business days
This item is a Used Model in Very Good Plus Cosmetic Condition and in Perfect Working Condition. On this one, there are some scratches, marks, barely few tiny nicks, tiny paint chips and few other signs of wear here and there (see 10th to 21st pictures), but really nothing major. Unit does not come with any power supply.
-
VOODOO LAB GROUND CONTROL PRO
Get total control over your MIDI and non-MIDI rack effects stompboxes, amp selection, channel switching, and more!
Imagine being able to instantly reconfigure your entire rig with the touch of a single button. Now you can! And, you aren't limited to just MIDI processors. With the addition of a GCX Guitar Audio Switcher, you can also control all your stompbox and rack effects, select amp channels, and more.
The Ground Control Pro can simultaneously control up to 8 different MIDI devices, each on their own channel. And, you can assign 8 of its buttons for instant access of GCX loops and processor functions. This gives you stompbox style control over your processor or modeling amp's internal effects.
The finest full-featured MIDI foot controller available, the Ground Control Pro is compatible with all MIDI controlled devices, and delivers the flexibility, ease-of-use, and rugged reliability necessary to meet the needs of the most demanding professional players.
Whether you are controlling a refrigerator sized rack, using a modeling amp, or just a single processor, the Ground Control Pro is the perfect choice for all of your performance needs.
-
FEATURES:
- Simultaneous control of up to 8 MIDI devices
- 8 assignable instant access switches
- Controls up to 4 GCX Guitar Audio Switchers
- Bright, stage-friendly alphanumeric display
- Name each preset
- Use volume/expression pedals for real-time control of your sound via MIDI continuous controller messages
- Hand built in the USA
- Dimensions : 17" wide x 11" deep x 2-1/2" max height
Weight : 8.4 lbs / 3.8 kg
By browsing the website musiquegagne.com, you accept the terms and condition listed below:
The product images and specifications are supplied solely for the purpose of guidance. Although the staff of musiquegagne.com will make every effort to ensure the accuracy of all descriptions, some mistakes may occur. musiquegagne.com may not be held liable for the problems that may ensue to the extent permitted by law.
You must ensure that the product responds to your needs.
For informational purposes, musiquegagne.com may offer you links to external websites. musiquegagne.com may not be liable for the content of the content displayed on external websites.
Shipping and handling fees are generally not included in the prices displayed, except when stated otherwise.
musiquegagne.com may not be held liable for delays in delivery caused by the carriers.
All our products are subject to a checkup before shipment.
Brand new products are currently only shipping to Canada as of now.
Used products may ship world wide. Ask for quote if interested.
You must include a complete physical address to ensure that all orders reach their destination. A tracking number is issued for all outgoing orders.
All orders are shipped within 2 business days following the approval of payment.
Free shipping offers are not applicable to all products.
Shipping fees are calculated automatically through applications provided by carrier companies. You must create a client profile to know more about their fees on products not covered by their shipping policies.
If parts of your order are unavailable, we will contact you and negociate arrangements depending on the situation.
may not be held liable for any damage incurred during transport.
You have up to 15 consecutive days following the date of reception to request a return number by email.
The product must be returned in its original state, including all accessories.
Reimbursement will be issued within a 5 business days period, depending on the method of payment, after inspection and approval by a manager. Cash and in-store reimbursements are not available.
The customer is responsible for all shipping and handling costs. These fees will not be counted in the calculation of reimbursement.
No returns are available on softwares and accessories (drum heads, drum sticks, strings, straps, harmonicas, in-hear, ear plugs etc.)
A 20% restocking fee applies to all product returns.
Every product sold by musiquegagne.com is in working condition except when stated otherwise.
New products in their original packaging are sold as-is.
All used and floor demo items are verified by our staff before shipping.
musiquegagne.com will always honor manufacturer warranties.