MUSIQUE GAGNÉ, À VOTRE SERVICE DEPUIS 1901
TRANSPORT GRATUIT AU CANADA SUR LA MAJORITÉ DES COMMANDES DE 200$ ET PLUS
NS DESIGN WAV4 AMBER BURST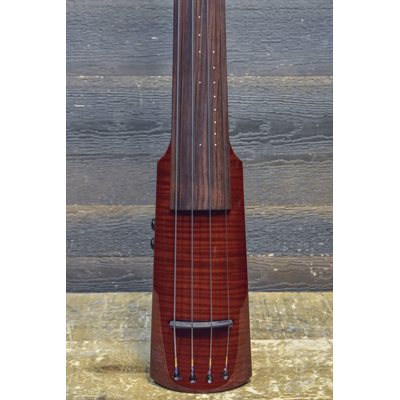 Appuyer et déplacer pour zoomer
Passer en survol l'image pour zoomer
NS DESIGN WAV4 AMBER BURST
Code de produit : WAV4-BASS-ABS....
CONTREBASSE ÉLECTRIQUE DÉMONSTRATEUR NS DESIGN WAV4 AMBER BURST
Fourchette de prix : 1000,00 - 1499,99$
Disponibilité : En inventaire.
Informer un ami
Description et/ou caractéristiques en français non disponible pour le moment. À titre de renseignement, nous avons inclus la description anglaise ci-dessous.
Si vous avez des questions au sujet de ce produit, n'hésitez pas à nous contacter via le formulaire de contact ou par téléphone et il nous fera plaisir de vous répondre.
Up for sale a NS Design WAV Upright Bass 4-String Amber Burst Electric Upright Bass w/Bag & Stand - #H170612! This instrument is a Floor Demo in Excellent Plus Cosmetic Condition and it comes with the Full Manufacturer's Warranty*. On this one, there are tiny paint chips on the body side (see 17th picture) and there are some fine scratches, marks, tiny dents, finish/wood imperfections and few other imperfections here and there (see 13th to 24th pictures), but absolutely nothing major. Unit comes with its Standard WAV/NXT Tripod Stand in its NS Design Padded Gig Bag.
NS DESIGN WAV SERIES 4-STRING UPRIGHT BASS
For the bassist entering the world of the pure electric upright, this instrument offers the combination of design, performance and affordability exceeding any other instrument in its class. True to the NS tradition, the WAV readily captures the essence of an acoustic, yet opens up a wide range of new possibilities.
With electronics are fully based around the NS patented Polar™ Pickup System, the WAV upright bass is available in 4 or 5 string models with several color choices to please the eye as well. The WAV proudly shares the same elegant, modern body design, ergonomics and performance support options of its companions in the NS line.
The WAV's Polar pickup system includes a convenient toggle switch between Arco and Pizzicato mode. Use the Arco mode for a traditional acoustic response for either bowing and a percussive plucked sound, or switch to the Pizzicato mode for uniquely even and sustained plucked sound, opening up new dimensions to the sound pallet. The piezo-powered passive electronics deliver an amazingly natural tone with unlimited overhead for extraordinary performance without the need or hassle of batteries.
All models are shown with Rosewood Fingerboard.
THE POLAR PICKUP SYSTEM
As a player, you may not think about the direction your strings are vibrating, or even be aware that string vibrations on a musical instrument are polarized in relation to the fingerboard and the motion of the plectrum and bow. Yet direction is one of the most significant factors influencing the tone and response of a stringed instrument. In fact, instruments from the violin family are different from the lute or guitar in large part due to the effects of string polarization.
FEATURES:
- The solid maple body and neck with a graduated rosewood fingerboard, delivers the rich, full tone you expect from every NS Instrument. The WAV Series brings the same clarity and fullness with every note. Asymmetrical fingerboard relief and an adjustable bridge and two-way truss rod allow the player to tweak the neck relief and string heights to suit the music and personal playing style.
- Compact and lightweight, the WAV Double Bass is an excellent instrument for musicians on the move. It comes equipped with a stand, and padded gig bag that carries the instrument with a handle and strap and includes separate pouch compartments for storing the stand, bow and accessories. The loaded gig bag will fit in the overhead compartment of most commercial aircraft. An optional hard-shell flight case is available for the WAV Double Bass.
- NS Electric Strings and most traditional acoustic strings fit all NS Double Basses, allowing the player to select from a wide range, each with a unique sound and feel. In combination with the easy adjustment of basic set-up parameters, the WAV Series Bass is adaptable to virtually any style of music.
- Several interchangeable performance support systems are available for the WAV: The standard WAV/NXT Tripod Stand is included.
SPECIFICATIONS:
Length : 132 cm (52")
Width : 15 cm (6")
Thickness : 10 cm (4")
Scale Length : 106 cm (41.73")
Strings : 4 Compatible with most standard ¾ size double bass strings.
Body/Neck : Solid, straight grain maple neck and body. Flame maple face on the Amberburst
Fingerboard : Asymmetric relief for easy playability in every position. Intonation referenced with cascading dot markers. Rosewood or Coform™.
Truss Rod : Two-way truss rod, accessible at neck.
Tuning Hardware : Fully encased worm gear tuners, black finish.
Bridge Pickup : The Polar piezo pickup system responds selectively to either vertical vibration (for the sustained plucked sound, like an electric bass guitar), or lateral vibration (for dynamic bowing, and a percussive plucked sound).
Electronics & Controls : Passive circuit with high impedance output, no batteries required. Volume control, tone control (treble roll off) and a switch to select between Arco and Pizzicato mode.
Double Bass Tripod Stand : WAV/NXT tripod stand standard, black painted steel, fully adjustable height and instrument angle. Folds for easy storage and fits into the WAV gig bag. Weight 2.7 kg (6 lbs.).
Gig Bag: A padded gig bag is included as a standard accessory. It has a stand compartment, bow compartment, accessory pocket, handle and adjustable shoulder strap. Loaded weight is 11.2 kg (25 lbs.) including stand, and it fits in the overhead luggage compartment of most commercial aircraft.
Weight : 8.8 lbs / 4.0 kg
All our items are fully verified by our pro technician and/or adjusted by our pro luthier before being very carefully packed by our pro service team here at the shop prior to shipment, buy with confidence!